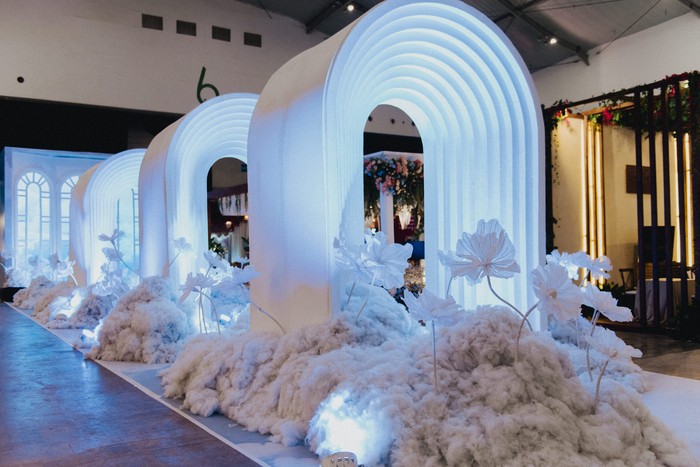 Jakarta
-
The Bridestory Market wedding exhibition is here again with the theme 'Secret Garden'. This is the second event this year, after previously being held in March by Bridestory who is also part of the Tokopedia ecosystem.
Bridestory Market will take place from 6 to 9 October 2022 at Hall 5-6 Indonesia Convention Exhibition (ICE), BSD City. There are more than 400 wedding vendor booths that can be visited.
At this event, brides-to-be can also find various wedding packages with attractive promos and discounts, you know. In addition, brides-to-be can also take various inspirations to realize their dream wedding, especially wedding inspirations with Indonesian floral and botanical themes that are organic and packaged in a modern way.
Chief Executive Officer (CEO) of Bridestory Doni Hanafi said the purpose of organizing the Bridestory Market is to facilitate brides-to-be in preparing wedding planning easily, practically, and of course without stress. Because all the needs for the concept of a dream wedding can be fulfilled in one place.
"On the other hand, we also want to always explore the potential and support the creativity and business development of wedding vendors in Indonesia. Hopefully with this event, a wedding plan can be a beautiful stage, both for the prospective bride and groom and business people who are involved in the field of marriage. this," Doni said in a written statement, Friday (7/10/2022).
Meanwhile, Head of Marketing Bridestory Natasza Kurniawan said the Bridestory Market was held this time because of the high enthusiasm of visitors and wedding business people at the event at the beginning of last year.
"Entering the Bridestory Market area, visitors' views will be spoiled with stunning and inspiring visuals. The participating vendors are also very excited to display their best work and their interpretation of this theme through the booth decorations that were built, so that the bride and groom can see and choose aesthetics vendors who best match their dream wedding concept directly on location. This can certainly make the process of finding vendors easier for prospective brides, "explained Natasza.
He said, the Bridestory Market wedding exhibition carried the concept of a one stop destination for all wedding needs by presenting hundreds of vendor booths from dozens of categories. These include venues, photography and videography, clothing, bridal shoes and accessories, wedding organizers, souvenirs, invitations, wedding cakes, decorations, wedding rings and jewelry, to health and beauty care.
Hilda by Bridestory is one of them, which is a professional wedding consultant and planner to help and assist brides and grooms to plan their dream wedding.
Not only wedding vendor booths, there are also dozens of interesting and varied F&B booths in the Market & Museum area. So that the bride-to-be and their family and relatives can spend time enjoying a variety of delicious snacks, while relaxing for a moment before returning to hunting for special promos from wedding vendors.
In addition to being complete and attractive, the bride and groom can also get many benefits and advantages when they come to the Bridestory Market in October 2022.
"In accordance with our commitment to help simplify the wedding planning process for brides and grooms, we present Bridestory Pay, which is a payment solution for transactions with vendors," said SVP of Sales and Operation Bridestory Ayunda Wardhani.
Ayunda said, Bridestory Pay will make it easier for brides and grooms to make transactions, because there are more than 30 payment method options. Starting from transfers between banks, virtual accounts, credit cards, to direct payments at outlets that work with Tokopedia.
"There is also a 0% installment facility for up to 24 months from 15+ banks in Indonesia. During the Bridestory Market, visitors who transact with Bridestory Pay can have the opportunity to win various attractive flash prizes and a Grand Prize worth a total of IDR 250 million," said Ayunda.
This event was also supported and enlivened by the country's leading wedding vendors, such as Lotus Design, Vera Kebaya, Imagenic, and Yogie Pratama. The participation of these well-known vendors is also expected to be an inspiration for other wedding vendors who are just starting their business in the Indonesian wedding industry.
Renowned wedding decorator from Lotus Design, Yu Cien appreciated Bridestory's step in holding an exhibition to bring together brides-to-be with the right wedding vendors.
"That's why we always feel excited to take part in the events held, such as the Bridestory Market. In addition to meeting prospective brides who we can help realize their dream wedding, we can also establish relationships and meet fellow multi-talented wedding vendors. , " explained Yu Cien .
For information, Bridestory Market is officially opened 6-9 October 2022 at Hall 5-6 ICE BSD. To get a free event pass, visitors only need to download and register through the Bridestory application which is available on the Apple Store and Google Play. For more information, visit market.bridestory.com or follow Instagram @thebridestory.
Sumber darihttps://wolipop.detik.com/wedding-news/d-6334984/pameran-bridestory-hadir-lagi-ada-promo-menarik-buat-calon-pengantin?single=1
Bridestory Exhibition is here again, there are interesting promos for brides and grooms. There are any Bridestory Exhibition is here again, there are interesting promos for brides and grooms in here.